Sidney Moose Lodge 568 Membership
Join Us
We are always interested in adding new members to our lodge. Please join us for fun and fellowship. If you are already a member, please invite a friend or relative to become a member. For for information about becoming a member of the Sidney Moose Lodge # 568, e-mail us at membership@sidneymoose.com.
---
Sidney Moose Lodge Honors 53 year member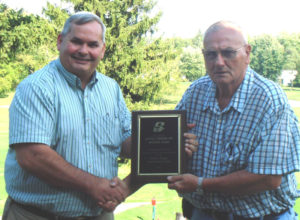 Russ Cook of Sidney has completed what many others have failed to do.  He has completed his 53rd year of membership of the Sidney Chapter # 568 of the Loyal order of the Moose.  By reaching this milestone, Russ was awarded a Life time Membership by Governor Kent Miller.
Russ retired from Ross Aluminum in 2002 after working for 38 years as a machinist. Russ has been married to Linda for 44 years and they have two grown children Bill and Lynn Cook.
The Sidney Moose Lodge has been serving the community for more than 60 years, and is dedicated to helping the youth of our community through junior golf programs, educational scholarships and providing family fun at a modest cost. The lodge is located at 1200 North Broadway.  Annual membership is $78.50. For further information or to become a member please call 937-492-5500.